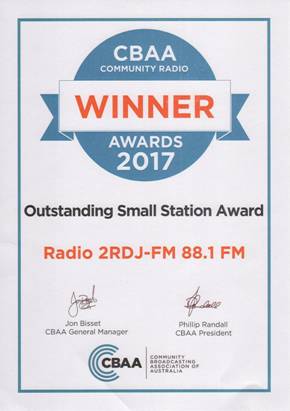 2RDJ-FM was  named the "Most Outstanding Small Station" in the CBAA 2017 national community radio awards at a ceremony on the Gold Coast on 11 November.
Program Co-ordinator Tina King-Garde accepted the award on behalf of the station paying tribute to the work of the Board "who do so much with so little".
The award is a testament to the hard work and dedication of all those involved with Radio 2RDJ – on air and behind the scenes.
We thank our listeners for tuning in and all those who support us.
Community radio, by the community for the community.  2RDJ-FM – the voice of Sydney's Inner-West