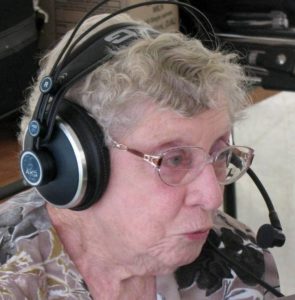 With sadness I report to you all that Jean MacKenzie has passed away. She died peacefully at home on Tuesday 24th April 2018.
A member of 2RDJ-FM for more than twenty-five years, Jean was a strong supporter of the station and an enthusiastic contributor to our activities – both on and off air.
Jean was a long term jazz presenter on 2RDJ-FM. She regularly presented weekday jazz programming on Radio 2RDJ and was an active member of the Sydney Jazz Club.
Jean was a well loved and respected member of the Radio2 RDJ community and will be sadly missed.
As per Jean's wishes there will be no funeral but there will be a wake held at Dooley's Regent Park Sports Club on Tuesday 1st May at 12pm. Anyone who knew Jean is welcome to attend.